Posted by The Cheese Shop on 26th Apr 2019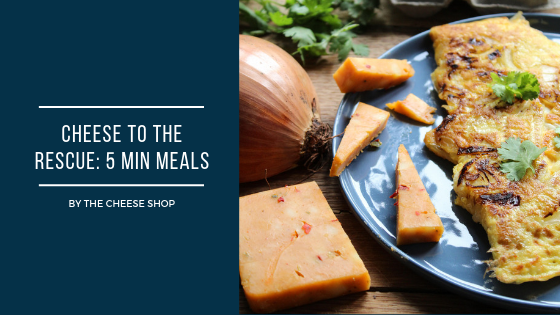 On many days I come home from work and I just want to dive into bed. I just can't be bothered to spend 30 minutes cooking up a meal. Out comes the instant noodles and eggs until I get bored of the flavours: chicken, curry, tom yum. (If boss is reading this, I love my job boss!)
With our cheeses to the rescue, these quick meals can be sensational! We gave it a try at The Cheese Shop and here's our recommendations:
Instant noodles / mee goreng
Instant noodles on its own makes an effective hangover cure or late night snack. A pot and a fork are all you need and just add water.
To jazz it up, add Pecorino with Truffles cheese to the instant mee goreng. Our Pecorino with Truffles is sharp and spicy, with a strong (and natural) mushroomy taste from the truffles. The cheese cuts through the seasoning well and adds a layer of umami to the noodles. Just add them shredded over your cooked noodles and mix it in.
Eggs
To make a quick dish of egg and cheese, we recommend an omelette with Mexicana cheese. Mexicana cheese is a mild cheddar cheese blended with chilies and spices. The result is an omelette (preferably soggy in the middle) with a flavourful taste of cheese, green chili - imagine Doritos nachos. People who are not used to spiciness need not worry as the chiliadds the taste of green chili without the heat.
If you want a more cheesy taste, add Extra Mature Cheddar into the mix.
Give it a try. Is it a good pairing or is it just weird? Do you have a trusty quick 5 minute meals recipe? Let us know.